After the success of BeePlus 2011, there was plenty of pressure for the project to continue into 2012!
We hope to provide collated feedback from the schools that took part in 2012, with over 200 children involved in the project.
Project plans for 2012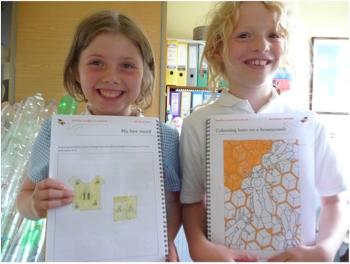 We will be concentrating our efforts on the international angle for sustainable development of employment and training regarding bees. But, we would be delighted to support a limited number of schools or organisations has access to the resources that will enable them to run the project for as many people as they need. So if they missed out last year, now is the time (March 2012) to get involved in this really worthwhile educational/environmental project.
This is what you need to do:
1. Find a Junior school, brownie/guide pack/ church group or organisation that would like to participate
2. Send us the school/pack/organisation contact details
3. Fundraise £30.00 for each pack, which will include:
· Teacher Resource, a full colour manual
· A sample of the complete pupil workbook
· CD – the ultimate teaching resource to enable the teacher/ facilitator to print out the resources when they need them
Many of you will have seen, and been impressed by the goody bags provided by Rowse Honey Ltd last year. Unfortunately these are not available this year. Everyone loved everything of course, but the feedback from schools taking part last year suggested the children were delighted with the lavender seeds. These are relatively cheap to buy and what better way of enhancing your local environment? Perhaps you could donate a few, along with the resource pack, to each group you put forward?
To be included in the 2012 BeePlus Project we ideally need to have contact details by 30th March, earlier if possible, because the number of packs is limited and we want to get them out as soon as possible after Easter.
Feedback from 2012
The feedback report from the BeePlus Project in 2012 is attached here.